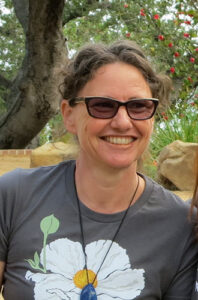 Fleur Nooyen was born and raised in the Netherlands and moved to the United States in 1984. She has lived in Los Angeles since 1997. After working for many years in the film and entertainment industry as a Set Buyer, collaborating with the Set Decorator, Art Director and Production Designer in the creation of sets and the translation of scripts into visual environments, she yearned to work on projects that would connect her more to the natural world.
Her love for nature brought her back to school in 2008, where she studied Ornamental Horticulture and Landscape Design at Mt. SAC, immersing herself in hands-on training. In addition to her studies at Mt. SAC, she obtained her Permaculture Design certificate at the Four Elements Farm, an organic farm in Atascadero. Besides being a landscape designer and horticulturist, she is also an ISA Certified Arborist and an ISA Qualified Tree Risk Assessor and she possesses an Integrated Pest Management Certificate and a DPR Qualified Applicator License. She is a G3 Certified Watershed Wise Landscape Professional, QWEL certified, an EPA Certified Irrigation Auditor and WaterSense Partner and she possesses Irrigation Design, Installation and Maintenance certificates.
Fleur's background is diverse and so are her interests. She loves to play with space and movement and the feelings a surrounding brings forth. Working on a garden, she sets out to create a habitat for creatures large, small or invisible to the naked eye. Soil micro-organisms, insects, birds, lizards – they all have an important function in a balanced ecosystem, supporting the health of a diversified palette of plants and trees.
As a Certified Arborist, she is keenly aware of the importance of proper tree care and how to avoid negative impact on existing trees in the design of a garden and landscape installation; while for new trees, the careful selection of the right tree for the right place will maximize the many benefits trees can have.
The range of plant material she uses varies by client wishes and the micro-climates occurring at their respective properties, which are located from the ocean to as far inland as Glendora. With an eye towards sustainability – she selects drought tolerant plants and trees from all over the world, in addition to creating spaces for edibles and backyard orchards. Knowing beauty can sometimes be found in less water-thrifty plants, she is not opposed to using them as long as the garden as a whole has a light footprint on the earth. Even in our arid California landscape, varying methods of water capture and retention can be applied. Fleur has been working with California native plants for years and two of the gardens she designed and installed were selected to be on the 9th and 10th annual Theodore Payne Garden Tour in April 2012 and 2013.
Fleur is a member of the Association of Professional Landscape designers (APLD), the California Landscape Contractors Association, the International Society of Arboriculture (ISA), the Western Chapter of ISA (WCISA), Street Tree Seminar, Inc., the Los Angeles Mycological Society, the California Rare Fruit Growers, the California Native Plant Society, the California Garden and Landscape History Society, the Mediterranean Garden Society, and the Southern California Horticultural Society, where she served as a board member for several years, and is currently on the programming committee.
ISA Certified Arborist #WE9631A – ISA Tree Risk Assessment Qualified. QAL DPR #128199.